The VSF (Video Services Forum) just announced an update of their broadly used TR-01 recommendation. The "Transport of JPEG 2000 Broadcast Profile video in MPEG-2 TS over IP" technical recommendation is a direct reaction to the industry's request for a recommendation that includes JPEG2000 transport with ultra-low latency (below 1 frame) and other significant improvements as broadcasters move to UHD resolutions.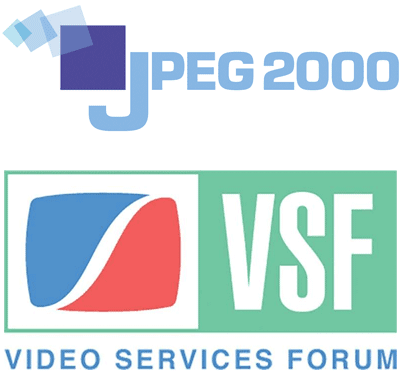 The updated TR-01:2018's most significant changes and amandments are:

1. Enabling end-to-end latencies of less than one frame, thanks to JPEG 2000 ULL
2. Supporting higher resolutions (UHD 4K), frame rates (120 fps) and bit depths (12 bit)
3. Expanding color space and adding mastering display metadata (as described in SMPTE ST 2086:2018)
4. Addressing issues with interoperability of the JPEG 2000 elementary stream header
intoPIX, with its EMMY® Award-winning JPEG 2000 IP-cores and their Ultra Low Latency mode, are perfectly suited for end users that want to build their infrastructures based on the new TR-01. In a time where the industry moves from SDI to IP, innovative video compression technologies such as JPEG 2000 ULL display a sustainable alternative to and improvement over uncompressed data transport and is particularly suited for building competitive solutions in remote production, contribution and even studio infrastructures.

To view the VSF's full technical VSF TR01 recommendation for JPEG2000 Ultra low latency over SMPTE2022 1/2, visit videoservicesforum.org.